Shell & Plate type Heat Exchangers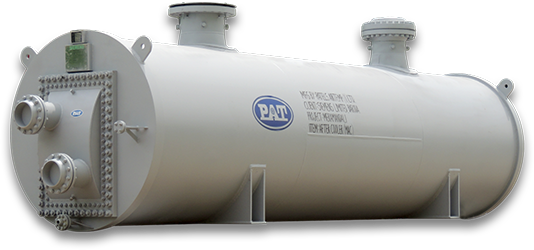 Successfully supplied specialized designed
Overview
Shell and fin tube type heat exchangers are compile under various product range (Inter cooler, After cooler, Oil cooler) having compact size compare to normal heat exchanger.
Shell and fin tube type heat exchanger majorlly design under temperature range from "sub zero to 350 Deg C temp" for cooling large volume of air or process gas.
Shell and fin tube type heat exchanger are utilize, when high heat transfer is required.
Design & Engineering
Experienced and qualified engineering team for customization of Thermal designs and Mechanical designs to meet project specification with guaranteed performance.
In-house engineering facility

HTRI
PV elite
Micropotol (Auto Pipe - Bently)
Code Cal
Nozzle Pro
Creo
ANSYS*
HTRI
PV Elite
ANSYS
Configuration
TEMA
HEI
API-660
IS-4503
BS-5500
IBR
ASME Sec. III, I, VIII Div.- 1 & Div. - 2
GOST/TR CU - Russia
DOSH - Malaysia
PED / CE - Europe
AD-2000 Merkblatt HPO
Roll bonded, Explosion Bonded, Weld Overlay and Strip Cladding constructions
Application
Compressor Industries
Air Separation Plants
Refineries
Fertilizer
Petrochemicals
Powerplant
Minerals
Glimpse of Signature Projects
MAN Energy - TATA Kalinganagar Project.
(Item : MAC Coolers/BAC Coolers - Total 18 Qty)
Heat Transfer Area: 5964 m2; Weight - 24500 Kg each
Removable bundle arrangement.
Ellenbarrie Industrial Gas (Item: After Coolers)
Design Pressure: 70 kg/cm2g.
Qty: 4 Nos.
Siemens - Bhushan Steel (Item : MAC/BAC Coolers - Total 5 Qty)
Equipment Size: 2400 mm OD x 8140 mm Length
Flow rate: 577,130 kg/hr.